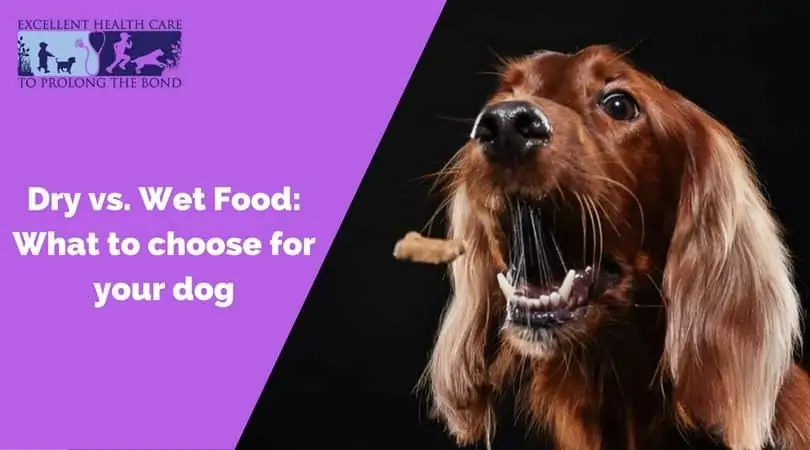 Wet or dry dog food? This question can be perplexing, especially if you just got your first pooch. Of course, there are several factors that you need to address when choosing between wet and dry dog food.
Dog parents usually struggle to find the answers to the following questions when choosing between wet food and kibble for their pooch.
What are the pros and cons of wet and dry food for dogs?
Is it ideal to choose dry food for dogs during summer?
Should I stick with the pet food type recommended by the breeder or a veterinarian?
Making an informed decision regarding dog food can be a hassle. Let us dig deep into a comparison between wet and dry food for dogs, that will hopefully help you to choose the right food type for your pooch.
Wet dog food
Wet dog food, usually available in the market as canned food, has many advantages.
As per the experts, wet foods are a tad more protein-rich when compared to its dry counterparts or kibble.
Wet food can also play a crucial role in bringing down dog obesity. The moisture or the water content can occupy the more space and fill up the tummy of your pooch. Wet food also ensures that your pooch has a larger proportion per meal with less calorie intake and without any compromise on the nutritional composition.
In cases where your dog is not fond of water, wet food can be an ideal option.
Wet food is also an ideal choice for dogs with decreased or deteriorating olfactory senses. The richness of scent and flavor of wet food can turn out to be the compelling factor here.
Dry dog food
Some of the advantages of dry foods for dogs are:
Dry food is a cost-effective solution when compared to its counterparts.
Dry food for your pooch can be an ideal option when you do not have enough time to supervise your dog's diet. Most of the people who work around the clock or who do not find sufficient time to spent with their dog, resort to dry food.
Special dry foods can be used as a cleaning agent for your dog's teeth. Such dry food particles are shaped in such a manner that it chips away the dirt on your pooch's teeth.
Dry food has a long shelf life when compared to wet food.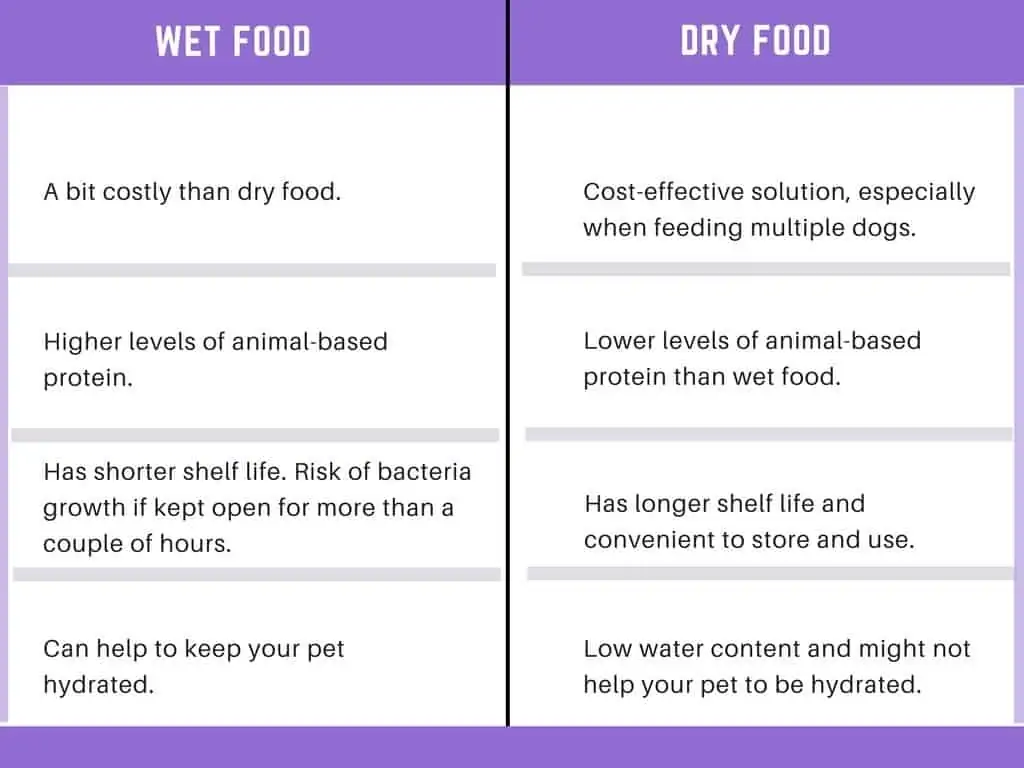 The age and breedConsider following the below-listed factors when choosing between wet and dry food for dogs.
The season: if it is summer, you might want to feed your dog with wet food
Health condition: if your dog seems undernourishment, you might need to stick with wet food.
Previous experience
Your dog's preference
Even though wet food seems to have an edge over the dry food, we recommend that you consider all the above-listed factors prior to choosing one over the other. It is always good to get the advice of your veterinarian, who can suggest the right diet for your dog based on his nutritional requirements.